You (finally!!) do not need to print a contract or form to fill out a couple of fields, sign the paper, scan it and e-mail it. What a waste of paper and printer ink!
I've been using neu.Annotate, which I have already talked about in my post about free iPad apps.
First of all, send the PDF file to your iPad. If the file is not in PDF format, convert it. In Office suite for Windows, choose "Save as" PDF. In Macs, Print > PDF > Save as PDF.
You can also transfer the file to iPad using iTunes or as an e-mail attachment, but I prefer Dropbox – assuming you have a Dropbox account and the app installed in iPad, of course.
We have two scenarios: your PDF arrives by e-mail and opens directly in iPad; and your PDF is received/created in your computer an then transferred to iPad via Dropbox.
1. PDF by e-mail
Touch the e-mail attachment to open it. Touch PDF body to show the top menu.
Touch the right-hand icon to open the export menu.
Select Open in "neu.Annotate".
PDF file will be sent to neu.Annotate gallery.
2. Dropbox transfer
Open Dropbox app.
Browse to the PDF file and touch it.
Touch the export icon on the right-hand side. Select neu.Annotate.
PDF file will be sent to neu.Annotate gallery.
From here, procedure is the same for both cases.
In neu.Annotate gallery (main screen), touch the file you want to open.
Touch the T icon on the toolbar. Type your text in the drop-down dialog box.
Touch the PDF body to close the dialog box. The text you typed will appear.
Touch the "double circles" (upper right and lower left) to fit the text size to your available space. Drag to the desired area. Zoom the PDF in (using "pinch" movements) to make it easier for you to adjust size/position.
Zoom in to sign, so the signature can be proportional to the available space and the surrounding text.
Touch the pen icon with the desired color.
Sign the document using a stylus.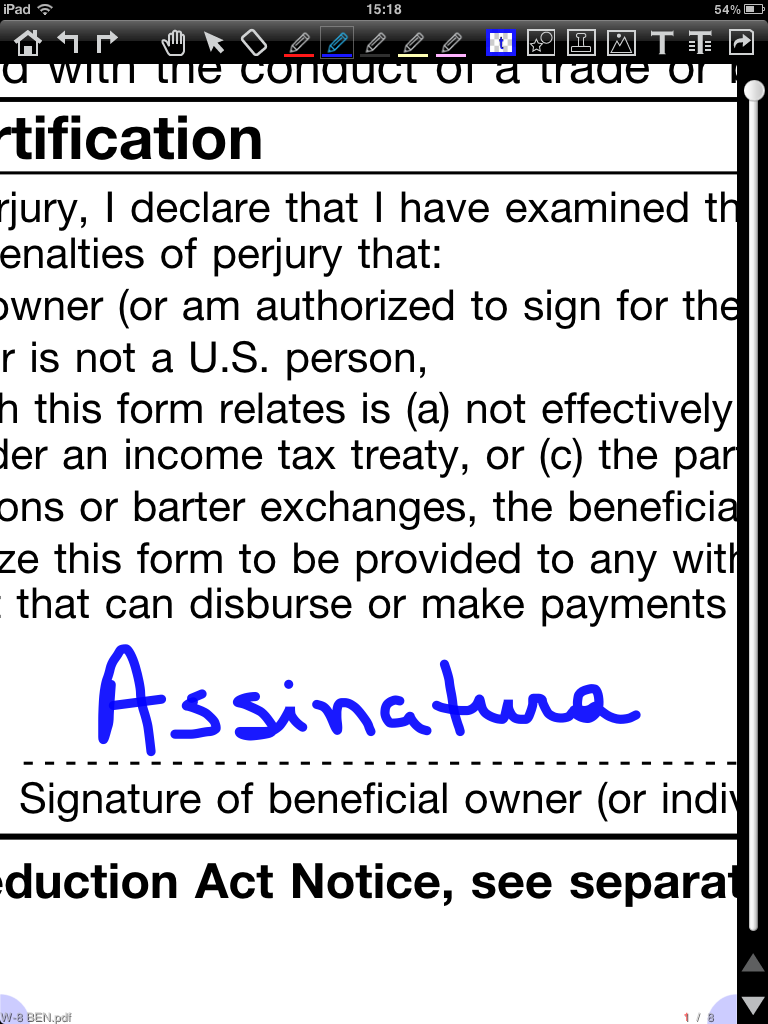 This is the final file:
Touch the far right icon to export the file. Choose Mail as PDF to e-mail the file, Open in > Dropbox to transfer it to Dropbox or Send to iTunes to transfer via iTunes.
Both neu.Annotate app and Dropbox app are also available for iPhone and iPod Touch.